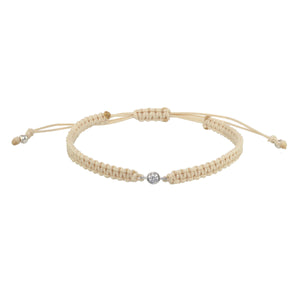 Our Darcy bracelet combines sophistication and casual comfort.  You won't even realize you are wearing jewelry as the cotton string softens and molds to your wrist. Wear everyday and you will be perfectly accessorized for every occasion. 
*Soft cotton strung into a macrame weave accented with a 2mm zircon stone set beautifully in a sterling silver bezel.
*Adjustable pull closure so that one size fits all. Tiny silver bead finishing.
*Ships for free in a signature pink and white Shame On Jane gift box filled with pink crinkle paper so as she opens the box her bracelet pops giving it the wow factor.